We love to have people over and our best times are when we've mixed up the crowd a bit. Last week's Thanksgiving was typical for us. For dinner, we had 14 and by the end of the evening, we added another seven. Besides the U.S, countries of origin of our guests included Argentina, England, India, Taiwan, and Italy. We and our guests are aerospace engineers, marketing managers, human resources directors, architects, musicians and sound track composers, venture capital analysts, college professors, business managers, credit union CEOs, students, and – of course – executive recruiters. In the precious hours leading up to the first arrival, as I stood in the kitchen, stirring, sautéing, baking, and barking commands, I also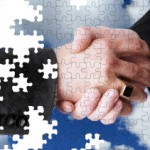 thought about, while caramelizing shallots, how to introduce everyone. How can we make sure that every guest knows enough about each other that they will sit together, talk comfortably, and want to know more. Meaningful introductions, especially with a diverse crowd, are critical to everyone having a good time. To not do so would be rude. Is your resume rude? At least 75% of the resumes I read would be guilty. If you feel strongly about introducing your guests, why wouldn't you do the same for the companies you've worked for? Think of how much more meaningful a conversation is when you know a bit about the person with whom you're speaking. It's critical that you do the same when describing your experience.
Take a look at your resume. You spent five great years at XYZ Corp. Do you introduce who they are and what they do? Most of you don't . . . and you should. Don't grapple with creating a few lines about what XYZ does, regardless of whether the company is publicly-traded or privately held. Look up their stock symbol on a financial website like www.finance.yahoo.com where there's always a profile or go to the company's "About Us" link on their website. How does the company describe itself to the public – what's important to them — and then ask yourself how you contributed to that and then tell the reader how.
To demonstrate, let's take a look at the top company on the Fortune 500 list: Wal-Mart. From their "About Us," use a few lines to introduce them after you list them as job experience on your resume.
__________________________________________________________
Wal-Mart Stores, Inc. * Bentonville, AK * 2005 – Present

Walmart serves customers and members more than 200 million times per week at more than 8,159 retail units under 55 different banners in 15 countries. With fiscal year 2009 sales of $401 billion, Walmart employs more than more than 2.1 million associates worldwide. A leader in sustainability, corporate philanthropy and employment opportunity, Walmart ranked first among retailers in Fortune Magazine's 2009 Most Admired Companies survey.
Title, Functional Area
* Responsibility or accomplishment, #1
* Responsibility or accomplishment, #2
* Responsibility or accomplishment, #3, etc.
__________________________________________________________
Let's now take it a step further and think about what each is saying and how it should tie to how you describe your experience and contributions:
* Serves customers – and lots of them! (customer service, employee training, crisis communications are all important)
* 8,159 locations (their broad reach means the consistency of information and solid distribution channels must be a priority)
* 55 banners (branding is obviously important)
* 15 countries (global vision, cultural and language differences for both customer and employees are key to their success)
* 2.1 million associates (that's a lot of employee communications and they all receive information in different ways: newsletters, intranet, break room posters . . .)
* Sustainability (being a steward of the environment is an important part of the Corporate Social Responsibility program)
* Corporate Philanthropy (care for their various communities is shown through diversified outreach programs)
* Employment Opportunity (means that employee development provides career paths)
You get the idea. As you describe your roles, keep how the company views itself, top of mind. Tie your responsibilities and contributions to the company's mission and while you may not have held roles that directly impact the bottom line, you, undoubtedly, supported the leader or group that did.
Of course, not every company is as recognizable as Wal-Mart. I have found that many candidates can be defensive about working for start-ups and small companies. Get over that . . . and quickly. These types of companies require and nurture skill sets that are becoming increasingly important in a more competitive marketplace (entrepreneurial mindsets, budget-consciousness, hiring key talent . . . and the list goes on.) You may have worked for the greatest company that no one has ever heard of so its mission must be introduced, as well. XYZ Corp. could also be the world leader in the production of widgets, but if the reader hasn't heard of them, your contribution will have less impact.
That's why those first few lines after each company are so important. They provide the lines within which you will draw your history. By taking this approach, you're showing a prospective employer how your contributions aligned with how the company sees itself and you're making the reader think . . . "if he/she could do it for XYZ Corp., he/she could do it for us, as well."
Tags: Career Experience, Executive Search, Job Search, Job-hunting, Resume Formatting, Resumes