As a retained executive recruiter, the candidates whom I usually engage in my searches are those with a minimum of ten years of experience. Having one daughter who is a recent college graduate and another one getting ready to start, however, I am sensitive to those fresh in their careers.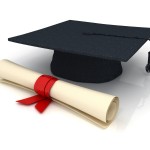 From a purely selfish standpoint, the sooner our daughters (also affectionately known as Financial Black Holes 1 and 2) have their own bank accounts filled with the fruits of their respective labors, the sooner they'll stop assaulting ours. For all others, getting off on the right career foot now means that they will be the highly desired candidates of future searches. Through my involvement in the International Association of Business Communicators (IABC), I am frequently invited to speak to graduating students about how to approach their job searches. The following counsel is what I provide directly to them.
Cleanse your Facebook Page. For me, the first piece of advice I offer a soon-to-be graduate is to sit down in front of your Facebook page and pretend your grandmother is sitting next to you. While there is no disputing the depth of social media savvy that this generation of job-seekers brings to potential employers, random photos of you knocking back tequila shots (particularly if you're under-age) may raise a few eyebrows in the Human Resources department of the company you'd like to join. As a recruiter, I learn everything I can about candidates as they are going through the interview process with my clients. I'm not hunting for the "bad." I do, however want to make sure that there will be no surprises because it is highly likely that if I am looking around, the prospective hiring organization is, as well. I have had several instances where a simple search exposed less than flattering information about a candidate. I'd rather be able to counsel a candidate about that prior to it becoming an issue or at least be prepared to defend the candidate, if necessary. While the argument I always get is "Well, I've got my Privacy Controls on . . .," it doesn't matter because you may be tagged in a photo by a friend who does not.
Be realistic about what your first job will look like. We all have a dream about that magnificent first job. You've worked hard for your degree and it's understandable that you'd like to hit a home run straight off of the podium. Be prepared, though, the first one may not be magnificent in the way you'd like it to be . . . but, eventually it will be. Graduating candidates need to realize that in most cases, early jobs may include responsibilities that they're not too excited about. Keep in mind, while hiring is picking up, companies that are finally expanding their payrolls will want those initial hires to be ones who can hit the ground running with less focus on "on-the-job training" and more focus on "we need this done yesterday." These early jobs, however, provide breadth and depth to a later career that had its foundation in the candidate's willingness to roll up sleeves and do what was needed early on to develop a solid reputation.
Focus on the following:
• Learn the organization's culture. Figuring out how things are done can be as important to a new employee as actually doing the work. Companies, like people, have personalities; to work well together requires compatibility. Understanding the organization, how decisions are made, and the internal workings of the senior management team, will give you the guidelines for success. Be observant.
• Find a mentor. Many companies, through their onboarding processes, will match new employees with seasoned professionals who will show them "the lay of the land." If such a program does not exist in your new organization (or even if it does) seek out people whom you would like to emulate. Most professionals will want to help and would be happy to answer questions and provide feedback. So, whether it's through a formalized program or not, identify those with career paths that you respect and then watch, ask, and learn.
• Raise your hand. "Jumping in feet first" or "baptism by fire," whatever the term . . . get involved. With staff rebuilding, there's going to be more than enough work to go around. One way to get yourself noticed is by your willingness to pitch in. Whether it is project-based or part of an organization's community outreach efforts, getting involved means becoming known and as long as your contribution is viewed as positive, it's a good thing.
• Ask questions. Asking questions is not a sign of weakness; it's a sign of curiosity and the desire to do the job right.
Don't discard the value of internships and volunteer work. The work done while in school is looked on favorably by employers who like to see early evidence of energy, enthusiasm, and curiosity. Make sure that your resume includes the same type of message from internships held as it would from traditional full-time jobs. The experience you gain is invaluable and you should never discard the experience derived from work on political campaigns or for non-profit organizations. Skill sets are developed that will be attractive to employers (time and budget management and the ability to be nimble and resourceful are just some of the benefits.)
Learn how to network. Networking, for some, is THE way to get a job. It doesn't have to be a longstanding relationship or face-to-face interaction . . . it's more of an art that you will develop over time. Consider the following as you build your professional network:
• Look at every relationship you have as a potential member of your network. From professors and former bosses to members of your church and your parents' friends, let them know what you'd like to be doing.
• Participate. There is an industry or professional association for just about everything. Check out http://www.job-hunt.org/associations.shtml, which provides a free listing of hundreds of organizations, many with local chapters. Seek out and join student or local chapters of industry associations that are aligned with your interests and career goals. These provide not only valuable industry insight, but also the opportunity to meet professionals in both your desired career and geographic areas.
• Create a 30-second "elevator" pitch that you can use when introducing yourself to someone. Let the contact know who you are and where you'd like to go and never be afraid to ask for referrals.
• Create business cards that contain contact information and hand them out when you meet someone with whom you'd like to stay in touch.
Build your resume. Use your internships and work experience to build the framework for your resume. Make sure to include volunteer activities that you participated in while in school. Even as a student, create a LinkedIn page and join groups that will bring exposure. Introduce yourself to group members.
My company, Plan B Communications, LLC, created a Resume Template and User's Guide that you may find helpful as you take on the process of putting your career on paper. You can find the links and accompanying article on my Examiner.com page here.
What you're getting ready to do is equally terrifying and exhilarating. Being prepared will ensure it's more the latter than the former. Be open to opportunities, agile in finding them, careful in tending them and your career will be off to a great start.